May 16, 2017
Darren Ng, Brookwood Secondary
In my 4+ years of teaching at BSS, I have seldom seen such extensive engagement, focus, teamwork, and problem solving over a 2 hr period! (especially on sunny Friday afternoon!)  Sadly, we had to close the doors at 5pm, but multiple teams of kids asked if they could stay later! 
I loved watching how each student approached the task of building a very complex robot….Some carefully organized the many pieces involved before digging in, others were already building without even totally unboxing their kits!  One industrious student chose to build his robot solo, while other kids opted to build their robots in teams.  Whatever their building preference, it was very evident that the students were tremendously enjoying this rich learning experience.
Over our final 3 weeks of AmazNG Science, students will finish constructing their robots and then transition into the challenging (but very rewarding task) of learning how to program their new creations to do their bidding!  Click here to see the full photo gallery of our fun Friday together:  https://goo.gl/photos/iFMBiHT8pmvL3UmR6
What Else Has Been AmazNG?
Over the last two months, we have been BUSY!  Read below to see what we've been up to:
I've Got Gas!  
During this week's club, we explored the various physical and chemical properties of various gasses, including flaming natural gas soap bubbles, a VERY explosive liquid nitrogen garbage can rocket, and ultra cool liquid nitrogen ice cream!
Check out the full photo gallery here:  https://goo.gl/photos/f85QJoqpfTqMQGcH9  The liquid nitrogen explosions are particularly amusing!
Nicole got the kids to compete in various engineering challenges that encouraged creative thinking and revealed how much a kid would do for a piece of extremely yummy chocolate!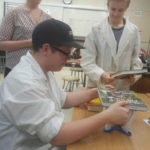 Students explored various ways pressure can be used to get things to move in a variety of fun (and sometimes explosive) ways!

Check out the full photo gallery here: https://goo.gl/photos/m5YThVkVMF2ZLHLM7
Students built Lego drag racers, extendo-claws, and spinning tops out of recently acquired Lego Technic kits!

Check out the full photo gallery here: https://goo.gl/photos/GQCASHxBBZhtBeR99