Principles of Quality Assessment
The following principles provide a foundation for the development of classroom assessment, evaluation and communication of student learning. These principles are intended to provide teachers with guidance for classroom assessment that aligns with the redesigned curricula.
Quality assessment
is fair, transparent, meaningful and responsive to  all learners

focuses on all three components of the curriculum model – knowing, doing, understanding

provides ongoing descriptive feedback to students

is ongoing, timely, specific, and embedded in day to day instruction

provides varied and multiple opportunities for learners to demonstrate their learning

involves student in their learning

promotes development of student self-assessment  and goal setting for next steps in learning

allows for a collection of student work to be gathered over time to provide a full profile of the learner and learning

communicates clearly to the learner and parents where the student is, what they are working towards and the ways that learning can be supported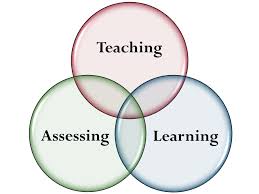 Throughout the learning process, teachers and students intentionally gather evidence to inform teaching and learning. The teacher creates rich tasks, engages with the students in setting criteria, establishes exemplars, and leverages the power of questioning to allow for ongoing, timely, descriptive feedback to the student. This process assists students in moving forward toward their learning targets and goals. Students are encouraged to reflect and self-assess to build important meta-cognitive skills. Personalization lends itself to assessment as learning, where students participate in the setting of criteria and the design of inquiries, and self- and peer-assessment.
Teachers document student learning over time using collections of student work and demonstrations to create a profile of his or her strengths, areas of growth, and areas for further development. Students, teachers, and parents, use criteria and rubrics to determine the standards met and the level of performance attained. Through multiple means and varied strategies, the students learning is made visible, and their successes celebrated. In this process, new learning goals and targets are established and ways to support the students learning described.