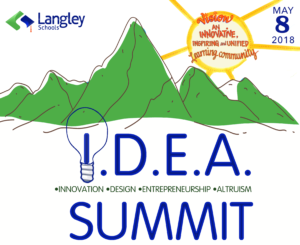 What is the

IDEA

Summit?
I

NNOVATION

DESIGN

ENTREPRENEURSHIP

ALTRUISM
The IDEA Summit is a Langley School District initiative designed to celebrate Innovation, Design, Entrepreneurship and Altruism in the Langley School District.  
Location:  Langley Event Center
Date: May 8, 2018
Components to the Summit:
Market Showcase: Students from across the district (K-12) showcase and sell their products they have designed and created.
Socialpreneurism Showcase: Students from across the district (K-12) share their ideas and their plans designed to make their local community a better place.
Design Challenges: Students from across the district (K-12) participate in design challenges throughout the day.  Students are provided with an open-ended challenge that utilize their creative skills to design a response to the challenge.  Each design challenge will have a time limit and will be an exciting activity for an audience to observe.

Pitch Challenge

: Students (K-12) will put forth their best pitch for their products or services to judges.
Finale: To close the event, we will have a short keynote address followed by 3 finalists who will share their pitch with the audience. Judges will share highlights of the showcase events and the pitch event.
9:15-1:15

– Showcase/Marketplace and Design Challenges (3 waves of visits)

 9:15-10:30 – 1st Wave School Visit
10:30-11:15 – 2nd Wave School Visit
11:15-11:45 – Lunch (venue closed)
11:45-1:15 – 3rd Wave School Visit

11:30 am

Judges Arrive for Lunch Briefing and Opportunity to Visit Showcase/Marketplace

1:30-2:30

 Pitch Challenge

2:30-3:30

Finale/Dragon's Den
KEYNOTE SPEAKER AT 2:30. 

Dr. Sarah Lubik is Simon Fraser University's first Director of Entrepreneurship and co-Champion of the Technology Entrepreneurship@SFU program. She is a lecturer in Entrepreneurship and Innovation in Beedie School of Business and the co-founder and marketing director of a high-tech startup. Sarah's research on topics that include entrepreneurship education and innovation ecosystems has been published in leading journals. She has been named one of Business in Vancouver's Top 40 under 40 and an Innovation Leader by the Government of Canada.

How can I and/or my students get involved? click HERE
Info on Entrepreneurship Programs in Langley:  click HERE
Why Entrepreneurship? click HERE