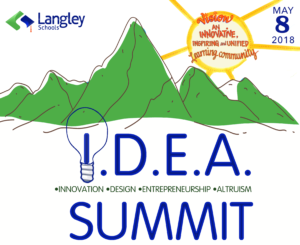 What is the

IDEA

Summit?
I

NNOVATION

DESIGN

ENTREPRENEURSHIP

ALTRUISM
The IDEA Summit is a Langley School District initiative designed to celebrate Innovation, Design, Entrepreneurship and Altruism in the Langley School District.  
Location:  Langley Event Center
Date: May 6, 2020
IDEA X CHALLENGE 2020 (A Unique SD35 Opportunity)
Teachers,  form your student teams for this year's IDEA X Challenge !  The IDEA X Challenge provides an amazing opportunity to do a "deep dive" around a "wicked world problem."    Students partner, invent and innovate to solve significant global problems. Scholarships of up to $15,000 are available to winning teams.  Students should be 12 years and older.  All teams must have a teacher sponsor and team members must attend the IDEA X Launch on February, 6th 4:30-8:00 pm at the School District Office.  For information on last year's challenge and to register your team, click HERE.
Videos from 1st and 2nd Place Team Pitches 2019: 
2nd place: https://youtu.be/1lmQenjXEQM
1st place: https://youtu.be/-4xOrMCGAk8
2020 IDEA X CHALLENGE: Design a future Langley that could exist in 50 years that is environmentally responsible and earth-conscious while honoring what is important to today's residents.
Components to the Summit:
Market Showcase: Students from across the district (K-12) showcase and sell their products they have designed and created.
Socialpreneurism Showcase: Students from across the district (K-12) share their ideas and their plans designed to make their local community a better place.
Design Challenges: Students from across the district (K-12) participate in design challenges throughout the day.  Students are provided with an open-ended challenge that utilize their creative skills to design a response to the challenge.  Each design challenge will have a time limit and will be an exciting activity for an audience to observe.

Pitch Challenge

: Students (K-12) will put forth their best pitch for their products or services to judges.
Finale: To close the event, we will have a short keynote address followed by 3 finalists who will share their pitch with the audience. Judges will share highlights of the showcase events and the pitch event.
9:15-1:15

– Showcase/Marketplace and Design Challenges (3 waves of visits)

 9:15-10:30 – 1st Wave School Visit
10:30-11:15 – 2nd Wave School Visit
11:15-11:45 – Lunch (venue closed)
11:45-1:15 – 3rd Wave School Visit

11:30 am

Judges Arrive for Lunch Briefing and Opportunity to Visit Showcase/Marketplace

1:30-2:30

 Pitch Challenge

2:30-3:30

Finale/Dragon's Den
How can I and/or my students get involved? click HERE
Info on Entrepreneurship Programs in Langley:  click HERE
Why Entrepreneurship? click HERE