Rationale
Today's workplace needs graduates who can adapt to ongoing change in their lives and careers and the increasing need for intercultural awareness. Career Education offers individual students opportunities to acquire the knowledge and competencies necessary for success in school, in the workplace, and in their daily lives.
From Kindergarten to graduation, the Career Education curriculum offers students many opportunities to explore and develop personal interests, passions, and competencies while making connections with learning opportunities, post-graduation options, and career and life path possibilities. Students discover that careers are not simply occupational destinations but a journey that involves lifelong planning and learning.
Career Education facilitates community-based learning by providing opportunities for community connections, real-life contexts, and experiences outside the school environment. The First Peoples Principles of Learning are reflected in the holistic, reflective, and experiential curriculum, in which students are placed at the centre of their learning. Through these experiences, students make meaningful connections that will equip them with the competencies needed to participate and contribute to their communities and beyond.
Options after high school are becoming increasingly varied and complex. The Career Education curriculum involves students in research, problem solving, and decision making relevant to career planning.  Students need opportunities to explore and research a multitude of education and career pathways. These pathways require graduates who can confidently self-direct, display initiative, set priorities, establish goals, and take responsibility for pursuing those goals in an ever-changing society. 
Society benefits when students have the knowledge and the personal and social competencies to manage their career and life transitions. 
Goals
The Career Education curriculum contributes to students' development as educated citizens through the achievement of the following goals. Students are expected to
develop awareness of their individual skills, interests, values, and passions, and connect them to career goals

work and communicate effectively with others, valuing diversity of people and cultures, ideas, and opportunities

understand the role of learning in supporting their career goals and be prepared to continue learning and developing new interests, knowledge, and skills throughout their lives

recognize the need to be adaptable, resilient, and flexible in order to meet the changing demands of the work environment

recognize the necessity of safety standards in the workplace

understand the value and importance of career development to individual lives, communities, society, and the global economy

identify and research education and career pathways, and explore a range of career experiences, including volunteering and non-traditional approaches to work

effectively use goal-setting and decision-making strategies to develop, manage, and adjust their educational and career plans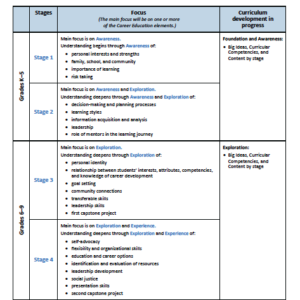 *Click on any of these framework above to enlarge
Intro to K-7 Career Education powerpoint