Quality reading instruction is at the heart of a balanced literacy program. Students need exposure to a variety of strategies, explicit instruction, and text. Through shared and modelled reading opportunities, small-group instruction, and time to practice independently, students will become fluent and expressive readers. More information and suggested strategies can be found by clicking the link below.
Intermediate/Middle Balanced Literacy Guide
There are three stages of reading instruction. Students need to engage in a variety of opportunities that build comprehension by teaching them to think about text prior to reading, while they are reading, and after they have read. All too often the majority of instructional time is spent on after reading strategies and assessment with little time given to metacognition. In our shared folder you will find resources and suggested strategies for instruction.
Resources for Reading Instruction
Writing is a highly social and developmental process that takes time. It is through shared experiences, mentor texts, peer collaboration, and explicit instruction that students learn to write the world around them. It is through feedback, authentic audiences and purposes that students grow as writers.
Resources for Writing Instruction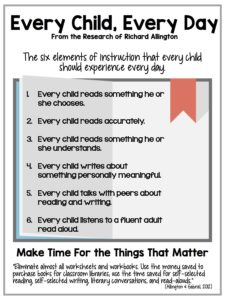 Richard Allington describes six high-quality, research based experiences that he believes all children should have every day if they are to become successful, engaged readers. These experiences are especially important for struggling readers. According to Allington, "The six elements of effective reading instruction don't require much time or money—just educators' decision to put them in place". Click on the image "Every Child, Every Day", to view the six elements of effective reading instruction. More information can be found in this excerpt from his article in Educational Leadership.